Resemblance between actors and actresses is not new, and being talk of the town ever since! Characters in Movies remakes can bring more life with these look a-likes, but are they talented enough to bring life back, its a Question!
Amitabh Bachchan & Sonu Sood
Sonu Sood, made his bollywood debut from the movie Shaheed-E-Azam as Bhagat Singh in 2002. Would you like to see Sonu Sood doing AB in coming project?
Zarine Khan & Katrina Kaif
Zarine Khan made her bollywood debut against Salman Khan in Veer in year 2010. She couldn't make up to the top but still being praised for her similar looks to Beauty Queen Katrina Kaif
Smita Patel & Chitrangada Singh
Chitrangda Singh started her acting career from Movie Hazaaron Khwaishein Aisi.  She is being acknowledged in B town with numerous films under her belt. Isn't She look a-like of famous Smita Patel ( Raj bubar's ex Wife). Do You remember Smita from film "Sharabi" against Amitabh Bachan.
Soha Ali Khan
The actress look alike her mother Sharmila Tagore. She has sharp looks like Sharmila and is fitness enthusiast.
Twinkle Khanna
Twinkle Khanna Mrs Funny Bones, look alike her mother, The Super star of her time Dimple Kapadia
Malaika Arora – Hina Panchal
Hina Panchal, The Item Song Girl and Actress in B Town is very similar to the Sexy and the beautiful Malika Aroora Khan, ex Mrs Khan (Arbaaz Khan)
Shah Rukh Khan & Ssumier S Pasricha
Ssumier S Pasricha popularly known as 'Pammi Aunty', an Indian actor and comedian has Shocking resemblance to non other than King Khan.
Sonakshi Sinha & Priya Mukherjee
After being endlessly compared to actress Reena Roy, seems like Sonakshi Sinha has another look-alike, a woman named Priya Mukerjee.
Salman Khan & Najeem Khan
Meet Najeem Khan, Salman Khan's look-alike. Najeem is a big Salman-fan 
Sara Ali Khan and Amrita Singh
Amrita Singh's daughter Sara Ali Khan look a-loke her famous mother Amrita Singh. Sara is going to come on big screen this Year, We wish her best of luck.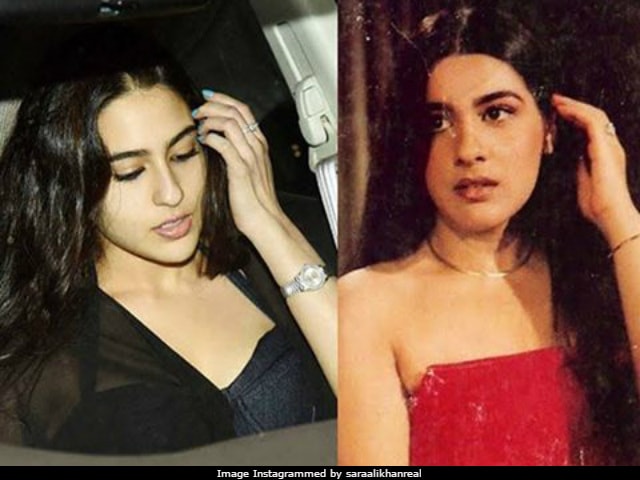 Karisma Kapoor
Karisma resembles her mother, Babita. Looking at older pictures of Babita, her daughter Karisma resemble her
Aishwarya Rai and Sneha Ullal
Katrina Kaif and Zarine Khan
Hrithik Roshan
Looking at picture of Rakesh Roshan, his son, Hrithik resembles him
Soha Ali Khan and Sharmila
The resemblance between this mother daughter duo is amazing.
Twinkle Khanna and Dimple Kapadia